Square Enix's revival of the Mana series continues with the announcement of a new isometric strategy RPG for the Nintendo DS called Heroes of Mana.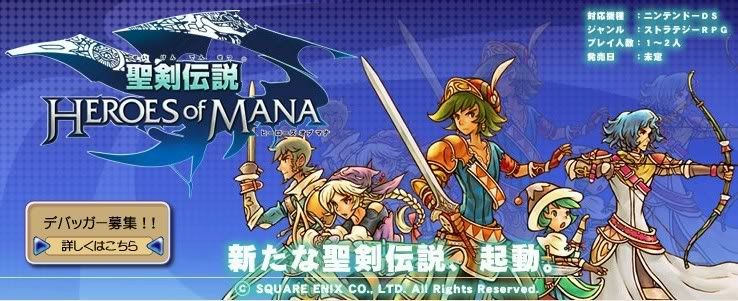 The team working on it are:
Koichi Ishii serving as Producer
Masato Kato (Chrono Trigger fame) on scenarios.
Ryoma Ito (FF Tactics Advance) and Akira Oguro (FF X) providing character designs
Yoko Shimomura (Kingdom Hearts, LoM) producing the music.
Looks like Brownie Brownie are working on the title, people who worked on Sword of Mana (
http://www.br2.co.jp
).
The gameplay will take a different spin on things, with a feel more akin to Final Fantasy Tactics or Disgaea, or on the DS itself Lost Magic. You control a soldier of the Pedan Kingdom Army who must gather the resources to summon creatures to attack the enemy.
Screenshots in a magazine scan can be found here:
http://www.gamesarefun.com/games/ds/her ... can01t.jpg
http://www.gamesarefun.com/games/ds/her ... can02t.jpg
Further screenshots
have emerged from Square-Enix's presskit, and are available here at JeuxFrance:
http://www.jeux-france.com/news17556_he ... ur-ds.html
Note that there are SD3 screenshots. Now these don't appear to be taken from the SNES as the resolution is different. Could it be that SD3 will finally make it to western shores? There's another tie in.
HoM takes place 19 years before SD3.
There is suspicion that HoM is the backstory of darkness described in SD3's intro and such.
Expanded gameplay information
The Mana series has always featured action-oriented combat, but for Heroes, Square Enix is making the move to real time strategy. Using an air ship as your base, you summon monsters to defeat oncoming enemy attackers.
Battles begin by players sending out a single monster to gather resources from trees and other resource points located on the battle map. Once you have enough resources, you build a facility for summoning a monster, which, once summoned, can be sent out to battle. Each facility can be used to summon one monster.
Once you've built up an army, it's battle time. You first have to send out a single unit to scope out the battle area and find enemies. Once the enemy has been found, you take control of all your army members, giving out specific instructions that are then carried out automatically until either you or the enemy dies, or you enter new commands.
The genre for Heroes of Mana is Strategy RPG, so fans of the series can look forward to lots of story in addition to gameplay. The game's main character is a fella by the name of Roger. A skilled sword combatant, Roger is a combatant in the Pedan Kingdom army. He also has a cheerful personality.
STORYLINE!!!!
Long long ago there was a tale that was much older than the birth of the Mana Goddess itself. It tells of one witch who brought Darkness upon the world in a distant dimension. Her name was Anith.
Anith was later defeated by the Guardians of the Tree but her spell of Darkness managed to travel through to many other dimensions, descending upon the worlds.
Following on, another legend is told…
When the world was once engulfed in Darkness, the Mana Goddess managed to defeat the Sacred Beast who was born to lead the world to its doom. With the aid of the Mana Sword, she sealed them in 8 keystones. Thus, it was so that Darkness was banished and the world was created anew. Afterwards, the Mana Goddess changed into a great ancient tree and settling herself in a sacred place that no one knows of, she continues to watch over the world together with the Mana Sword.
Now many years later the world has settled down in peace but, the terrifying shadow of Darkness descends.
In the old town of "Pedan" in the southern seas… Darkness was ready to tear its cold claws through the peaceful slumber of the world.
Move them pixels, boy!
As if all this weren't enough already, on top of all that, I have found an animated trailer, mainly showing FMV, but it does have a bit of gameplay!
http://youtube.com/watch?v=XXRNBsQjkLw