Posted on March 27th, 2007 by Kassidy Kearey
Filed under Heroes of Mana
This news is old and might contain broken links and/or images.
Sorry for any inconvenience!
We have indeed the first screenshot showing English text of Heroes of Mana!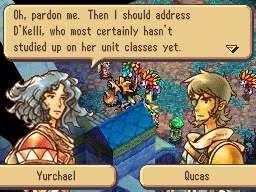 Shame it appears they have butchered the names even more than they already are… However, this is good news, even if there still isn't a concrete date confirmed yet (still slated for Summer 2007, no more specific than that I'm afraid).