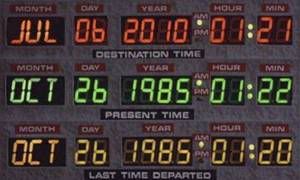 Dude! Where's my hoverboard?
---
It's fake. The actual day is October 21, 2015. That image there is one of the shopped ones that have been plaguing the internet for the past couple days.
---
Yeah, found that out just after posting. Rather annoying that (well, and the fact that my memory is that bad of late).
---
yeah... first i was confused by the image, because i just saw bttf 2 like 2 weeks ago... and i clearly remember they saying 20 years into the future
---